Thai Machines Lend Motorcycle Loans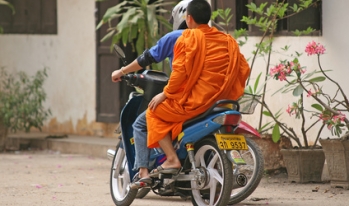 Innovation is transforming motorcycle lending in the Kingdom of Thailand.

WorldLese, the motorcycle leasing division of CIMB Bank Thai (CIMBT) has deployed the country's first "do-it-yourself" application machines for consumer loans.

These Self Apply Machine for Motorcycle Loan (SAMM) devices service customers that are seeking motorcycle loans for both new and used motor vehicles.

According to Managing Director Thaveepol Chareonkittikunpisal, 180 SAMM machines have been deployed in motorcycle shops in 46 of Thailand's 76 provinces. An additional 20 machines are scheduled to be deployed nationwide by the end of 2012.

Prospective borrowers apply for motorcycle loans on the machines without the supervision of customer service personnel. The application process takes between 30 minutes and an hour, contingent upon the customers' documents.

The machine is tactically positioned to help WorldLese compete in the national market by minimizing labor requirements in the motorcycle lending industry.

"Sales staff is a key factor in the motorcycle loan market, basically we need to have staff at a motorcycle shop providing service to customers. But WorldLese is a small company, so it would not be worthwhile to compete in the market by recruiting a lot of sales staff. The machine is our solution," said Chareonkittikunpisal.

Hoping to shield the device from being copied by competitors CIMBT has applied for patent registration.

The machines are expected to significantly contribute to the company's motorcycle loan growth for the year.

WorldLese expects motorcycle loans to grow by 1.4 billion baht with half of that growth being contributed by SAMM machines.

Loans are predicted to generate 3 billion baht this year with half of that being generated by the new lending devices.

Foreseeing the need for more than just borrowing, CIMBT developed the machines to also handle motorcycle refinance debt.

The machines have succeeded in affecting consumer behavior since employees reportedly prefer to use the machines thanks to their convenience and speed. The machines require the same debt applications that they would for customer-to-employee processes but a smart card ID card is required.

Despite the advancement of machines and technology the loan approval process still requires a human touch—albeit a much smaller one.

"For loan approval process, company staff stationed at the company's branches or headquarters will interview customers online through the machine before approval. The interview is an important procedure to analyze loans and identify an applicant, as risk management basis," said Chareonkittikunpisal.