Family Lives in Homemade House to Avoid Mortgage Loan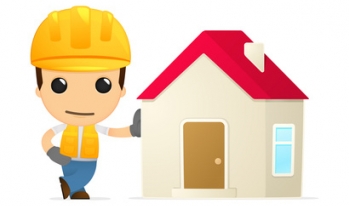 After suffering a severe blow from the recession, a Florida family defaulted on their mortgage loan in order to save money.
After walking away from their three bedroom house, Carl and Hari told the Anderson Cooper show that the best way to save money was to avoid a mortgage loan payment all together. To help reach that goal, the couple decided to build their own home.
Dubbed the "Tiny House," the couple successfully built an 8 by 21 foot home, for a grand total of 168 square feet, out of materials costing a mere $12,000. The cost of materials was kept so low as a result of Carl scouring Craigslist, wanted ads, and newspapers.
Resulting from the small and intimate size of the homemade house, the couple reports their energy usage has dramatically reduced, totaling only $40 a month.
The Tiny House comes complete with a foyer, a kitchen, a couch, a restroom with a shower, and two loft bedrooms (both of which are accessible by ladders on either end of the home). Carl and Hari share one bedroom while their two young kids share the other.
Due to their reduced costs, Hari has been able to put her full salary away as savings while Carl's supports the family. They hope to only use the Tiny House temporarily while they acquire the necessary money to build and even larger "Tiny House" that also will be free of any mortgage loan.
This trend of downsizing and living without the need for mortgage loans is growing. The website tinyhouselisting.com is a place for both tiny home buyers and sellers to meet together and broker deals.
Users can browse by state and find houses that cost a fraction of the amount that typical mortgage loans are originated for. Granted, the tiny homes are also a fraction of the size most houses as well.