How Banks Are Lending Four Years Post-Recession
The recession that spawned from the financial crisis of 2007-2008 has "officially" been over for several years now.
According to the National Bureau of Economic Research, the Great Recession began in 2007 and
ended
in June of 2009. But today, nearly four years later, the country is still
struggling with unemployment
, despite hollow assurances from the government that job growth
continues to steadily climb
.
While it is good that the nation has improved when compared to where it stood during the height of the recession, the country still has a long way to go before reclaiming the prosperity that America was once known for.  
As we continue to trudge through this thick swamp of economic stagnation, this troubling and difficult time begs a powerful question: How did America, the most powerful and wealthiest country in the world, get into this situation?
While that question has countless answers, we can focus on one.
When the Housing Bubble burst, banks—who had lent home loans to under-qualified borrowers in the name of profit—shut off credit. This brought on the now infamous Credit Crunch that prevented many businesses from borrowing money and expanding. As a result, thousands of businesses shut their doors, unemployment became the norm, foreclosures suddenly were commonplace in nearly every neighborhood, and the Great Recession—the worst economic catastrophe since before the Second World War—had begun.
Now in 2013, we have the luxury of looking back to see economic trends. Loans.org compiled the following data from
the FDIC
showing how banks have fared in the 3 years after the recession.
Not What You Might Expect
It turns out, FDIC-insured lenders (which include massive banking juggernauts as well as smaller sized savings institutions) have been doing fairly well.
For example, consider the following numbers regarding real estate loans, which include residential home loans.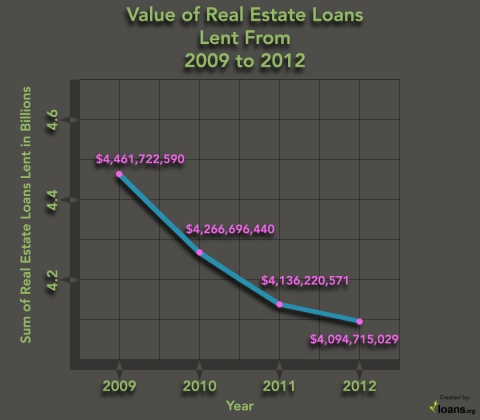 As the graph indicates, between 2009 and 2010, the amount of real estate loans lent declined rapidly. This pace slowed between 2011 and 2012.
An interview with FDIC spokesman, David Barr, shed light on the real estate lending situation.
"Real estate and mortgages were central factors in the recent recession. Real estate and mortgage markets have taken years to recover, and select markets are still in the process of recovery," he said.
It seems apparent that lenders are still bitter about their losses during the Housing Bubble. Their caution to lend more home loans is actually prudent given the still relatively high-level of unemployment. Most consumers simply don't have the income to afford monthly home loan payments; at least not at pre-recession peak levels.
But not all lending markets have followed that same trend. Consider the following information on commercial loans.
"Commercial and industrial borrowers made progress in repairing their balance sheets," said Barr. "As a result, by 2010, banks were able to increase commercial and industrial loans."
As you can see, lending decreased insignificantly from 2009 to 2010, but it rose dramatically from 2010 to 2011 and continued to climb well into 2012. Business lending has clearly been resurging and may be the cause of steadily rising job growth as businesses are able to get commercial loans for expanding and hiring.
Finally, we compiled information available for individual financing, which includes
personal loans
.
After 2009, individual loan lending practically flat-lined. This can be attributed to the fact that even after the recession, most people still had devastated finances, which was reflected in their credit scores.
Similarly, collateral for loans had either been repossessed during the recession itself, or was now too valuable to an individual to risk. Without collateral and with lowered credit scores, qualifying for a personal loan became difficult at best. Pile onto that the fact that during this three-year period many Americans became unemployed, and it's not hard to see why the personal lending atmosphere fell stagnant, as shown above.
The Year of Recovery
It turns out that income for FDIC-insured lenders reached $141.3 billion at the end of 2012. This was the second highest annual earnings ever reported by the financial industry since a record high of $145.2 billion was recorded
back in 2006
.
The fourth quarter of 2012 proved to be a particularly profitable period, as FDIC-insured lenders earned $34.7 billion in income according to
an FDIC press release
. This is an increase from one year earlier when they only earned $25.3 billion in the fourth quarter of 2011. Despite lending out sizable amounts of loans, lenders have not been left unscathed by the economically-slow years following the recession.
As the above chart shows, lenders have continued to close, but there has been a gradual decline in the overall number of lender failures. In 2009, the end of the recession, 140 FDIC-insured lenders shut their doors. One year later in 2010, that number rose to 157.
But this trend reversed in 2011 when only 92 FDIC-insured lenders failed. Last year in 2012, the number of failed lenders plummeted again to 51.
Despite having arguably caused the Great Recession—and reaching near-record high income levels in the fourth quarter of 2012—lenders seem to be suffering from their own version of "unemployment."
If current trends continue, then we should expect to see even fewer failed lenders, meaning the financial industry will be all the more prepared to serve an increasingly-employed public. All in all, lenders have reached high levels of profit but there are fewer of them around to enjoy these income levels thanks to the decimation of their numbers from 2009-2010.